No Reading Allowed: The WORST Read-Aloud Book Ever (Hardcover)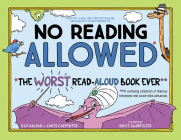 $17.99

Usually available in 1-5 days
Winter 2020 Kids Indie Next List
---
"A fabulous follow-up to P Is for Pterodactyl! This book of homonyms is a silly delight for kids of all ages. The best picture books are the ones you want to read slowly to savor all the little details in the word choice and illustrations, and No Reading Allowed definitely accomplishes that."
— Lizzy Nanney, Quail Ridge Books, Raleigh, NC
Description
---
A new, hilarious picture book for kids from the #1 New York Times bestselling authors of P IS FOR PTERODACTYL!
What makes this picture book for kids be THE WORST read aloud book ever? Try reading these sentences aloud:
The mummy prepared farro for dinner.
The mummy prepared pharaoh for dinner.
Sounds the same, right? But they're totally different! Kids will laugh at the irreverent, super silly humor and witty illustrations that provide context clues and help explain the outrageous sentences. While kids are cracking up at you repeating yourself, they also will be learning about homonyms and homophones! There's also a glossary to help explain the sound-alike words.
This hysterical book for kids is sure to delight parents, teachers, and anyone who loves to laugh at the absurdity of the English language.
"Those who love wordplay are the natural constituency for No Reading Allowed: The Worst Read-Aloud Book Ever, a picture book that's bright with comic scenes… [and] brilliant pairings of picture and word (and word with word)."—The Wall Street Journal
"If you're a logophile (=word nerd), grammar geek, or a bookworm, and especially, if you're a teacher or homeschooler, snag a copy of No Reading Allowed for yourself and a friend. This will be a hot holiday gift for us word nerd folks!"—Imagination Soup
About the Author
---
Raj Haldar is the author of the #1 New York Times Bestselling picture book, P is for Pterodactyl: The Worst Alphabet Book Ever. But, for close to a decade, he has been better known as Lushlife, the rapper, producer, and multi-instrumentalist. In that time, he's amassed a fervent global fanbase and released award-winning viral music videos that highlight his erudite lyrics. The Sunday New York Times describes his work as "an intoxicating mix of captivating rhymes with audacious, gorgeous production." So it should come as no surprise that Haldar has made the leap into the world of children's literature. His latest book entitled, This Book is Banned gives young readers a lighthearted entrypoint to begin understanding the dangers of book banning and censorship. His work has been featured by The Washington Post, Interview Magazine, VICE, Pitchfork, Village Voice, Mental Floss, BBC, SPIN and more!
Raj currently lives on the Upper West Side of Manhattan with his wife and two young daughters.
Raj Haldar social media, music, books + more!
Chris Carpenter is a software developer for a tech startup in New York.
An adventurer at heart, Bryce Gladfelter honed his skills in the arts during hours spent drawing on trains and buses, people watching in markets, and wandering the natural world. Bryce's illustrations are featured in magazines and product labels around the US. He currently resides in Philadelphia, PA.
Praise For…
---
"Those who love wordplay are the natural constituency for No Reading Allowed: The Worst Read-Aloud Book Ever, a picture book that's bright with comic scenes… [and] brilliant pairings of picture and word (and word with word)." — The Wall Street Journal

"If you're a logophile (=word nerd), grammar geek, or a bookworm, and especially, if you're a teacher or homeschooler, snag a copy of No Reading Allowed for yourself and a friend. This will be a hot holiday gift for us word nerd folks!" — Imagination Soup

"A really clever book that takes a humorous look at homophones, homonyms and the use of punctuation in each situation. Like their previous book, P Is for Pterodactyl, this book further expands upon the messiness of the English language through colorful and amusing illustrations." — Laughing Squid

"A whole lot of chaotic fun." — Buzzfeed

"The playful book has readers' minds darting in all directions." — Smithsonian Magazine, The Ten Best Children's Books of 2020

"Assuming you've spent the last two years coming to grips with the fact that the ABC's are a scam (if you haven't, take your time, it's a lot to process), you're ready to move onto this next volume of mandatory reading, No Reading Allowed... So to make sure you and yours are equipped for all the silly sound-the-same sentences out there, grab this super-serious manual and study it hard! Because what you think you heard there might just be that ewe herd, there." — Funny or Die

"Endlessly funny... Preposterous situations and farcical sound-alike sentences will elicit groans and giggles." — Kirkus Reviews

"There are no words to describe the sheer silliness of the homonyms and sound-alike sentences in No Reading Allowed. The punny awesomeness, made extra ridiculous by Bryce Gladfelter's absurd illustrations, makes it a perfect buddy book for bedtime." — The Virginian-Pilot

"From the creators of "P is for Pterodactyl" comes this playful look at homophones. Seven-year-olds will appreciate the funny difference a little change in spelling or punctuation can make." — Today.com

"A laugh-out-loud exploration of the absurd world of homonyms" — Foreword Reviews

"This book contains whole homonymic sentences, and the result is sometimes quite funny, sometimes gross-out, but always entertaining." — Youth Services Book Review

"I loved the idea so much... The sentences are creative and funny, the illustrations are engaging and really bring the humor to life. It's a great way to introduce kids to new vocabulary and help motivate them towards more clear writing." — Motherhood Moment

"An awesome, funny teaching tool for children learning about homonyms." — Portland Book Review

"Perfect for book gifts for any occasion, both young and old will get a kick out of this." — Daily Mom